Repost: Republic P 47D Thunderbolt «Miss Fire»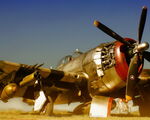 Отсюда, автор: aquatarkus10
Here is another work that I feel a little different and original: «Miss Fire»!
This was one of the names of the P47 Thunderbolt D 25 piloted by Captain Fred Christensen (the other one was «Rozzie Geth II»).
This aircraft was assigned to the 56th Fighter Group RAF Halesworth in August 1943.
The model: 1/32 scale Trumpeter kit + full package Big Ed Eduard and the Hobbymaster dry stencils.