Repost: Revell 1/72 Kamov KA-52, But a little different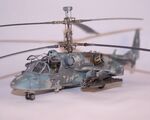 Отсюда, автор: Python66
The cockpit is a NeOmega and didn't fit at all. It was definitely not designed for the Revell kit.
However, I sanded and sanded untill it fitted.
The camo is a little different.
I hardly didn't use decas and the camo was taped off with 1mm tape. A lot of work but I was really happy with the result.